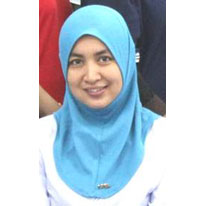 Siti Norhuda Datuk Mahadi has 12 years of experience in the customer service training including marketing, communication and negotiation skills. Being in the multinational corporate industry for 10 years gives her a deep understanding of the customer service sector, which never fails to impress the audience with the training delivered. Norhuda's programs have often been described as practical, enjoyable and highly interactive!
Norhuda has a Master Degree in Business Administration from UITM Shah Alam. She is also a certified PSMB trainer and her clients include GlaxoSmithKline Pharmaceutical, Kumon Asia & Ocenia, Quest Consulting, PSDC and Boustead Holding Berhad.
Currently, Norhuda is the Associate Trainer with QTF Consulting Sdn. Bhd. and Associate Consultant at the Omniview Consulting Sdn. Bhd. which is an international consulting agency, the main distributor of exclusive Harisson Assessments Suitability Profiling System.